Afternoon Tea
Ready yourself for a quintessentially British experience with our indulgent Afternoon Tea, served in our beautifully elegant Hyde Café. Sit back and enjoy an irresistible assortment of delicately crafted sandwiches, warm baked scones and deliciously sweet delicacies, accompanied by a selection of the finest Camellia's Tea House teas from around the world. For that added treat, why not add a glass of Laurent Perrier Champagne or Chapel Down Sparkling Wine and let the afternoon blissfully slip away!
Signature Afternoon Tea & Vegan Afternoon Tea | £39 Monday to Friday | £45 Saturday & Sunday
Festive Afternoon Tea (25th November – 5th January) | £45 Monday to Friday | £49 Saturday & Sunday | £49 24th – 26th December
Spend a serene January afternoon indulging in our Signature Afternoon Tea with a complimentary glass of Laurent-Perrier Champagne. Available from 6th January to 4th February. Click below to book.
Ready yourself for a quintessential British tradition, passed down through the centuries and made modern and unique by our talented team. There is no specific dress code but guests are kindly invited to choose smart attire, so to best tune in to the ambience of the place.
Special services
We are pleased to offer birthday and anniversary arrangements, and we can accommodate almost any dietary requests. Special menus and table cards for groups are provided free of charge. Our Pastry chefs can also prepare delicious cakes to your taste (must be ordered in advance). Simply contact dine@royallancaster.com to specify your needs and enquire about pricing.
To book contact us via phone or email
Opening / Closing time:
Monday to Sunday
13:00 - 16:00
To book contact us via phone or email
SPECIAL PROMOTIONS
A selection of promotional packages currently available
Promotion availability:
25.11.2023 - 05.01.2024
Our enchanting Festive Afternoon Tea is the perfect excuse to take part in a little extra Christmas indulgence.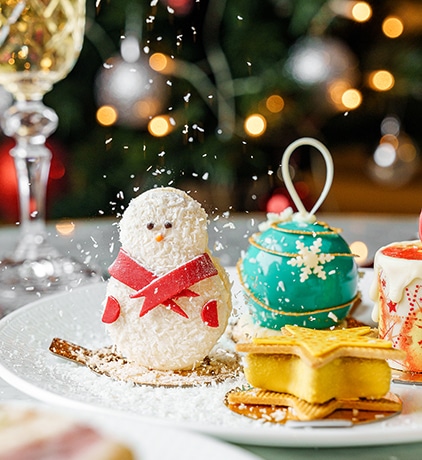 view more


Our Summer Signature Afternoon Tea is an irresistible assortment of sandwiches, scones and sweet delicacies inspired by the season, served in our beautiful Hyde Café.
Afternoon Tea & Vegan Afternoon Tea | £39 Monday to Friday | £45 Saturday & Sunday
Make it extra special with a glass of Chapel Down Vintage Reserve 2019 Sparkling Wine for £11 or a glass of Chapel Down Rosé Brut Sparkling Wine for £16